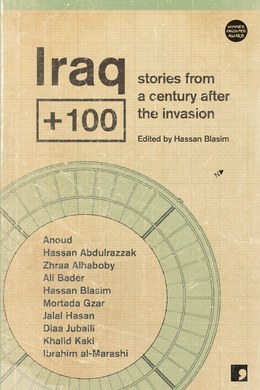 by Hassan Blasim. Featuring stories from: Anoud, Hassan Abdulrazzak, Ibrahim Al-Marashi, Zhraa Alhaboby, Ali Bader, Hassan Blasim, Mortada Gzar, Jalal Hasan, Diaa Jubaili & Khalid Kaki
Iraq + 100 poses a question to ten Iraqi writers: what might your country look like in the year 2103 – a century after the disastrous American- and British-led invasion, and 87 years down the line from its current, nightmarish battle for survival? How might the effects of that one intervention reach across a century of repercussions, and shape the lives of ordinary Iraqi citizens, or influence its economy, culture, or politics? Might Iraq have finally escaped the cycle of invasion and violence triggered by 2003 and, if so, what would a new, free Iraq look like?
Covering a range of approaches – from science fiction, to allegory, to magic realism – these stories use the blank canvas of the future to explore the nation's hopes and fears in equal measure. Along the way a new aesthetic for the 'Iraqi fantastical' begins to emerge: thus we meet time-travelling angels, technophobic dictators, talking statues, macabre museum-worlds, even hovering tiger-droids, and all the time buoyed by a dark, inventive humour that, in itself, offers hope.
Press
'A gamechanging giant leap for Iraqi futurism.' - Foundation: The International Review of Science Fiction
'Dazzling and disorienting, these stories are not just reflections of turmoil, but also yearnings for peace and a connection with Iraq's past grandeur.' - The Atlantic
"Though art can't redeem history, let alone bring much solace, the most artful stories in Iraq + 100 can show what is specifically strange about the misery and hope that Iraqi writers, their compatriots, and their readers have been left to deal with—in the here and now, and for centuries to come." - Strange Horizons
'A testament to creativity and imagination' - Arab News
'The futures imagined in these stories don't necessarily cohere ideologically. This makes Iraq + 100 an especially electrifying read. One gets the sense of being present at the birth of a literary movement, with all the freedom and experimentation that entails.' - American Microreviews and Interviews
'The writers balance dark humour and despair with a frail thread of hope for the future of Iraq... The writers featured in this collection promise to define Iraq's present through daring, lucid visions of its future.' - World Literature Today
'I admire the achievement of this collection greatly, and I want it to be read, and celebrated, and supported. Iraq + 100 is painful, difficult, and necessary; it's often beautiful, always harrowing.' - NPR
'The anthology offers a vital platform for juxtaposing autonomous visions of the future without fear of failure or repercussion. It is a bold initiative that is fundamentally about reclaiming the licence to dream, having the courage to maintain hope in the face of uncertainty, loosening the straitjacket of despair about the past and having the audacity to imagine alternate realities that transcend the stark truth of the present.' - The National
'If the world needs any book right now, it's Iraq + 100' - Speculative Fiction In Translation
'Iraq is often portrayed as a place that has always been violent and always will be. By germinating new narrative possibilities, Iraq + 100 provides new ways of imagining the next century that go beyond seeing the present as eternal.' - In These Times
'It is certainly a success.' - Hurriyet Daily News
'If there is one consistent thread to Iraq +100, it is not that a nation-state cynically devised by the colonial British is liable to fracture or instability, nor that the powerful or influential are prone to tremendous corruption and incompetence, nor that history can be successfully erased nor even that it cannot be. Rather, it is that humanity is manifold and resilient, and Iraqis understand that better than most.' - Interzone 268
'Science fiction is one way of reflecting on human society and naturally the cultural background of the author lends a unique flavour to stories.' - Gadgets 360
'Unlike almost every other book you will find out there about Iraq right now, the ambitious new short story collection Iraq + 100 has little to say directly about all the nation's recent wars. This is somewhat remarkable... Still, any opportunity for Iraqi writers to get together and write about something besides the wars, even if that trauma shadows each word in this book to some degree, must be seen as a kind of victory.' - The Millions
'I felt the raw emotions of a people who have only recently been allowed to publicly dream of a brighter future and that alone would make this book a worthy read. Luckily, however, there are a myriad of other reasons why you should read this. You might even discover a new level of compassion or empathy for a war-torn people who stand among the ashes of their forefathers and dare to look up.' - Geeks of Doom
Awards
One of The Guardian's Best SF and Fantasy Books of the Year 2016
One of Tor.com's Reviewers' Choice: Best Books of 2016
One of World Literature Today's 75 Notable Translations of 2016
One of Barnes & Noble's Best Science Fiction & Fantasy Collections and Anthologies of 2016
Rights Profile
Rights Available
World, all languages except North America (Tor) and Arabic (Alca Books)
Original Language
English
Samples Available
Full text available in English
Publication Date
November 2016