Cōnfingō is an independent publishing house based in Manchester, UK.
​
We create beautiful editions of new fiction, poetry and art in all forms.
​
Twice a year we produce a unique collection of previously unpublished works, available to purchase from our online store or from one of our stockists (listed below).
​
STOCKISTS
Rough Trade. London
HOME, Manchester
Greenhouse Books, Cheadle
Forum Books, Corbridge
Fox Lane Books, Thorpe Willoughby
Housmans, Kings Cross
Pitch 22, York
Rare Mags, Stockport
Newham Bookshop, London
White Rose Books, Thirsk
Chorlton Bookshop, Manchester
Uppsala English Bookshop
Unitom, Manchester
Publications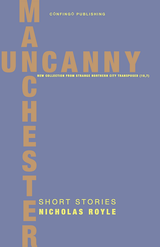 Sixteen stories from the last two decades, including three brand-new pieces, demonstrate Royle's range of voice and approach, from accessible experimentation – a story designed to be read in any one of 362,880 ways, another made exclusively out of the lyrics to Unknown Pleasures – to more conventional but equally dark narratives of snooker halls, secret pools, university life and 'people texture'.
Contact Info
FICTION & POETRY
​
ART & ONLINE