Hassan Blasim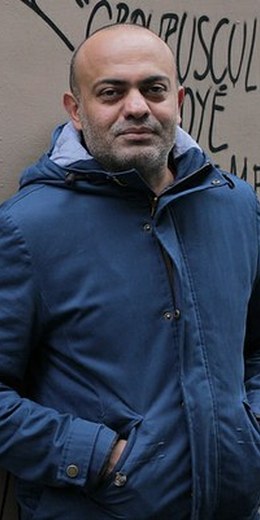 Winner of the 2014 Independent Foreign Fiction Prize for The Iraqi Christ.
Hassan Blasim is an Iraqi writer currently based in Finland. Born in Baghdad in 1973, he studied at the city's Academy of Cinematic Arts, where two of his films 'Gardenia' (screenplay & director) and 'White Clay' (screenplay) won the Academy's Festival Award for Best Work in their respective years. In 1998, after several arrests, he was advised by his tutors to leave Baghdad - the overtly political and critical nature of his films was drawing attention from Saddam's informants at the Academy. He fled - initially to Sulaymaniya (Iraqi Kurdistan), where he made feature-length drama Wounded Camera, under the Kurdish pseudonym 'Ouazad Osman' - and ultimately in 2004, after years of travelling illegally through Europe as a refugee, he settled in Finland. 
Hassan's stories first appeared on the website iraqstory.com, which he co-edited, and then first in print, with the anthology Madinah (commissioned by Comma Press in 2008). His debut collection The Madman of Freedom Square was published by Comma a year later, 2009 (translated by Jonathan Wright) and was longlisted for the Independent Foreign Fiction Prize in 2010. His second collection, The Iraqi Christ (again translated by Jonathan Wright) was published by Comma in April 2013, and won the 2014 Independent Foreign Fiction Prize - the first Arabic title and the first short story collection ever to win the award.
Hassan's work has been translated (or is in the process of being translated) into over 20 languages. A heavily censored Arabic edition of Madman was finally published in 2012 and was immediately banned in Jordan, and an Arabic edition of The Iraqi Christ was published in 2015. A selection of stories from both of his two collections were published in the US in 2014, by Penguin USA, under the title 'The Corpse Exhibition', which was later picked as one of Publishers Weekly's Top Ten Books of 2014.
March 2016 saw the launch of Blasim's first play, The Digital Hats Game, at the Telakka Theatre in Helsinki.