UCLan Publishing is an independent, trade children's publisher based at the University of Central Lancashire, Preston. We are unique in our innovative approach to publishing, combining the best in publishing education with exciting live projects. Our current strategy is focused on expanding our list and creating a trustworthy brand, recognisable for brilliant stories, and immersive non fiction.
After we won the Times Higher Education Award for Excellence and Innovation, and also the IPG New Comer Award in 2019 we have been busy establishing our list, acquiring new exciting titles and integrating our commercial business even further into UCLan teaching practices. Our commercial arm directly feeds into the MA teaching. Students not only get to meet and work with our authors, illustrators and professional freelancers but they are involved with different aspects of the publishing process for each of our books.
We're also home to the Northern YA Literary Festival.
Publications
Enola Holmes meets Indiana Jones in this epic story of mystery, adventure and learning to live with grief along the way.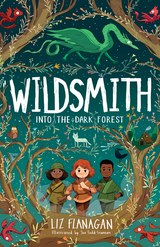 When war threatens her beloved city, Rowan and her mother must flee to the Dark Forest, meeting Grandpa and his white wolf Arto for the first time.