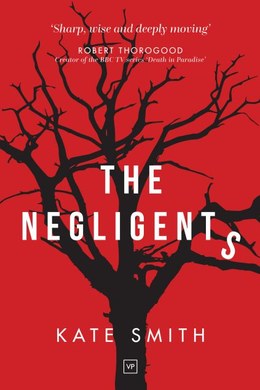 A tragic yet humorous coming-of-age story, The Negligents plots the flailing friendship between Polina and Grace and their troubled families. The fascinating intricacies of their lives are seen from multiple viewpoints as an interwoven series of scenes unfold, but who is telling the truth and who has secrets yet to reveal?
As a former lawyer, author Kate Smith is fascinated by legal constructs, turning them upside down and inside out to shed light on the messy business of being alive. In this, her debut novel, she uses the framework of a legal negligence claim to explore the nature of friendship, of family loyalty and how a simple act of carelessness can have deeply toxic consequences.
Cover design by Fitzpatrick Designs.
Press
'This is a beautifully-written novel. It's sharp, wise and deeply moving. I love Kate Smith's writing' – Robert Thorogood, creator of the BBC TV series Death in Paradise
'Kate Smith threads comedy through tenderness and makes it work.' – Rachel Genn, author of The Cure
Publication Date
June 2018