OUT OF TIME: POETRY FROM THE CLIMATE EMERGENCY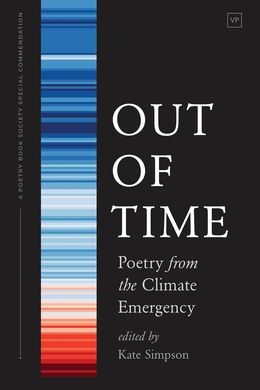 50p from each sale will be donated to Friends of the Earth, the UK's largest grassroots environmental campaigning organisation, in celebration of their 50th anniversary.
"The definitive anthology for this decisive decade" — Poetry Book Society
"The best eco-themed anthology to emerge this year ... dynamic, elegiac and hopeful" — Rishi Dastidar, Guardian Books of the Year 2021
If you compressed the whole of Earth's history into a single day, the first humans that look like us would appear at less than four seconds to midnight. In the last few seconds, we begin to burn fossil fuels at an alarming rate. The Anthropocene is an artificial geological epoch of our own design – one defined by emergency, with disastrous ecological effects rippling outwards across the entire globe. The illusions of civilisation, progress and choice are crumbling around us, and we are out of time.
Out of Time is curated to include five key thematic sections – sequenced to take readers on a journey through various responses to climate emergency today. These sections include Emergency, Grief, Transformation, Work and Rewilding. The featured poems move through anger, confusion, violence and disarray – spheres of dystopia and decimation – to grief, desperation and lethargy, right through to modes of transformation, fable and utopia as well as rites of passage, activism and work. Finally, we land on tender (if fragile) moments of hope, where humans can be both included or excluded from the picture at will. This powerful, timely anthology engages with the power of poetry to ask questions, subvert expectations and raise reader awareness in 2021 – a year defined by responsibility, accountability and opportunity.
Edited with an insightful introduction by Kate Simpson and featuring original work from the likes of Caroline Bird, Inua Ellams, Pascale Petit, Karen McCarthy Woolf, Rachael Allen, Raymond Antrobus and Mary Jean Chan, this collection of 50 poems is galvanising, offering compressed worlds, ecosystems and alternate realities – all ready to be opened up, expanded and explored.
Awards
A Poetry Book Society Special Commendation
Publication Date
August 2021