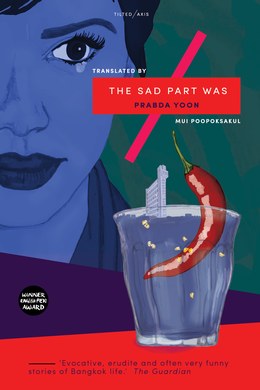 Buddhist vampires and harassed ad-men among the bright lights of Bangkok; award-winning author Prabda Yoon lifts the lid on Thailand's clash of modernity.
In these witty, postmodern stories, Yoon riffs on pop culture, experiments with punctuation, flirts with sci-fi and, in a metafictional twist, mocks his own position as omnipotent author. Highly literary, his narratives offer an oblique reflection of contemporary Bangkok life, exploring the bewildering disjunct and oft-hilarious contradictions of a modernity that is at odds with many traditional Thai ideas on relationships, family, school and work.
Press
'Evocative, erudite, and often very funny stories of Bangkok life.' — The Guardian
'Formally inventive, always surprising and often poignant, with the publication of this fluid and assured translation of The Sad Part Was, Prabda Yoon can take his place alongside the likes of Ben Lerner and Alejandro Zambra as a writer committed to demonstrating that there's life in the old fiction-dog yet.' — Adam Biles, author of Feeding Time
'An entrancing and distinctive collection. Yoon's limpid prose faces up to large, transcendental questions, all the while flickering with beautiful other-worldly images and flashes of deadpan humour.' — Mahesh Rao, author of One Point Two Billion
'Prabda Yoon is one of Thailand's finest writers. These witty, adventurous, and wholly brilliant short stories were a necessary shot across the bow when they first appeared in Thai, a deceptively revolutionary collection that helped to transform the country's literary landscape. Long deemed untranslatable, given their interests in linguistic wordplay, their appearance in English—in this supple, agile translation by Mui Poopoksakul—is a cause for celebration.'  — Rattawut Lapcharoensap
Awards
Winner of a PEN Translates! grant.
Selected as a 'book to look out for in 2017' by The Guardian and BuzzFeed Books.
Rights Profile
Rights Available
World, all languages
Original Language
English
Samples Available
Full text available in English
Publication Date
October 2017