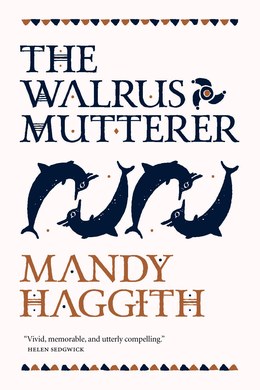 Northern Britain, Iron Age. Rian, a carefree young woman and promising apprentice healer, is enslaved by a spiteful trader and forced aboard a vessel to embark on a perilous sea voyage. They are in search of the fabled hunter known as the Walrus Mutterer, to recover something once stolen.
The limits of Rian's endurance are tested not only by the cruelty of her captor, but their mysterious fellow passenger Pytheas the Greek – and the merciless sea that constantly endangers both their mission and their lives.
A visceral evocation of ancient folklore and ritual, The Walrus Mutterer is an epic tale that introduces an unforgettable cast of characters in an extraordinary, vividly imagined Celtic world.
Press
Praise for Mandy Haggith:
'Moving and quietly passionate.' AL Kennedy
'Compelling and terrifying.' Observer
'A passionate and subversive book, written with a poet's touch.' Jason Donald
'An ecological page-turner ... lyrical and vivid, written with a poet's eye for detail.' Linda Gillard
Awards
Mandy Haggith is a former winner of the Robin Jenkins Literary Award.
Rights Profile
Rights Available
World, all languages
Original Language
English
Samples Available
Full text available in English
Publication Date
March 2018