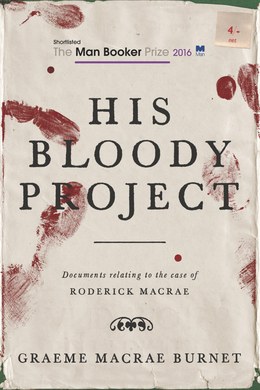 The year is 1869. A brutal triple murder in a remote community in the Scottish Highlands leads to the arrest of a young man by the name of Roderick Macrae. A memoir written by the accused makes it clear that he is guilty, but it falls to the country's finest legal and psychiatric minds to uncover what drove him to commit such merciless acts of violence. Was he mad? Only the persuasive powers of his advocate stand between Macrae and the gallows. Graeme Macrae Burnet tells an irresistible and original story about the provisional nature of truth, even when the facts seem clear. His Bloody Project is a mesmerising literary thriller set in an unforgiving landscape where the exercise of power is arbitrary.
Press
"Compelling and entirely true to its setting, His Bloody Project is as good as historical fiction gets." – Antonia Senior, Critics' Choice 2016, The Times
"Burnet sucked me in from the very first page … and left me breathless." - Val McDermid, Best Books of 2016, The Guardian
"Offers an intricate, interactive puzzle, a crime novel written, excuse my British, bloody well." – Steph Cha, Los Angeles Times
"A smart amalgam of legal thriller and literary game that reads as if Umberto Eco has been resurrected in the 19th-century Scottish Highlands." - Mark Lawson, The Guardian
"Effortless writing… has a feel for authentic-seeming time and geography that transports readers into the moment… but its overarching themes are timeless." - Ben Myers, New Statesman
"Has the lineaments of the crime thriller but some of the sociology of a Thomas Hardy novel." – Tom Nolan, Wall Street Journal
"The overwhelming appeal of this excellent novel is its authenticity." - Times Literary Supplement
"A spellbinding piece of serious new fiction… Riveting, dark and ingeniously constructed." - Sunday Times
Awards
Shortlisted for the Man Booker Prize 2016
Winner of the Saltire Society Fiction Book of the Year Award 2016
Finalist for the LA Times Book Awards 2016.
Rights Profile
Rights Available
World, all languages
Original Language
English
Samples Available
Full text available in English
Publication Date
November 2015