The Mermaid of Black Conch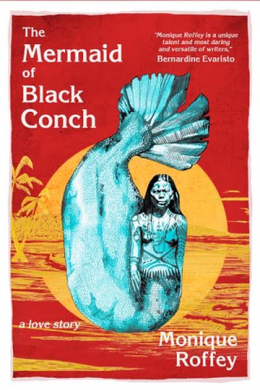 April 1976: St Constance, a tiny Caribbean village on the island of Black Conch, at the start of the rainy season. A fisherman sings to himself in his pirogue, waiting for a catch – but attracts a sea-dweller he doesn't expect. Aycayia, a beautiful young woman cursed by jealous wives to live as a mermaid, has been swimming the Caribbean Sea for centuries. And she is entranced by this man David and his song.
But her fascination is her undoing. She hears his boat's engine again and follows it, and finds herself at the mercy of American tourists, landed on the island for the annual fishing competition. After a fearsome battle, she is pulled out of the sea and strung up on the dock as a trophy. It is David who rescues her, and gently wins her trust – as slowly, painfully, she starts to transform into a woman again. But transformations are not always permanent, and jealousy, like love, can have the force of a hurricane, and last much longer
The novel's characters are an unlikely mix: a mermaid, a fisherman, a deaf boy, a Caribbean artist and sweetman and a benevolent white landowner. Miss Arcadia Rain's own love story is interwoven with Aycayia and David's and the rivalries and affections in both family and community are brought brilliantly to life. Themes of unconditional love, friendship, family and loss, are examined without sentimentality. Roffey manages to write convincingly about a mermaid, a 'legend drawn from the sea', returned to land, to survive, heal and live again, as a real woman in modern times.
Press
'A book for our time' - Ingrid Persaud
'Hauntingly supernatural yet searingly real' - Grace Nichols
'Powerful, imaginative, marvellous realism' - John R Lee
Publication Date
April 2020