A Little Dust on the Eyes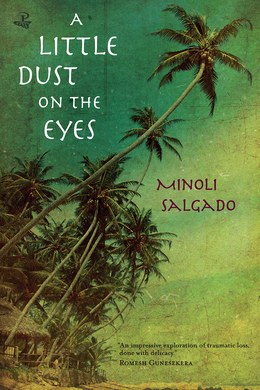 The bustle of an English seaside resort gives way to the unreal calm of a coastal community in southern Sri Lanka as Savi and Renu, two cousins separated by civil war, are reunited just weeks before the tsunami strikes. Renu is struggling to find evidence that will bring political killers to justice; Savi is struggling to heal the damage wrought by a broken childhood. They are just catching up with the secrets of the past when the past catches up with them.
This haunting and richly textured novel of intersecting lives, memory, and loss confronts the twin tragedies of a brutal civil war and the Boxing Day tsunami, revealing the intimate connections between silence and violence, displacement and desire.
Press
'For much too long, the literature of Sri Lanka has been overshadowed by that of its larger, more boisterous cousin India. But in Minoli Salgado's wonderful book, Sri Lanka comes alive not only as a place of mythology, tragedies, both human and natural, but as a land of dreams and of a people whose resilient spirit has a Chekhovian beauty. Like Michael Ondaatje's Anil's Ghost, Salgado's work is an example of how we make literature out of the fire of near extinction.' - Syl Cheney-Coker
'It is a great book - a wonderful elegy to a childhood and country lost.' - Susheila Nasta, MBE, Editor, Wasafiri
Awards
From the winner of the Northern Crime Competition
Shortlisted for the DSC Prize for South Asian Literature
Rights Profile
Rights Available
World, excluding Slovene, UK and English Speaking Caribbean
Original Language
English
Samples Available
Full text available in English
Publication Date
October 2014