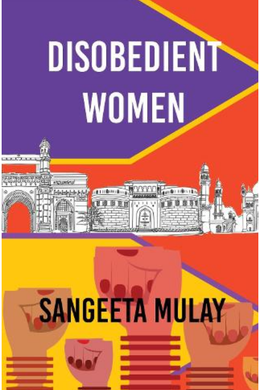 by Sangeeta Mulay. Sangeeta Mulay was born in Pune in India and now currently works in London as a UX writer. She received an honourable mention in the 2021 NYC midnight micro-fiction challenge. Her book for young adults, 'Savitribai Phule and I' was a notable book of 2020 for The Bombay Review. She has also had a short story highly commended in the Sydney Hammond short story competition.
Set in contemporary India, Sangeeta Mulay's unforgettable debut novel is a compelling story of four unforgettable characters:
Aparna - a courageous campaigner of rationality and freedom of expression. Will the patriarchal grip of a religious society manage to silence her?
Hari – the passionate founder of a religious organisation. As Hari becomes a rising star for the local Hindu right-wing, will he lose himself?
Naseem - Aparna's wise daughter who is discovering her sexuality. Will she have the strength to stand up for her mother against societal stigma?
Kashi - Hari's daughter who is in love with science and…girls? Confused about her sexuality, will she be able to lead life on her own terms?
Confronting issues of religion, bigotry, sex and politics, DISOBEDIENT WOMEN tells the interwoven stories of two families and their battle of ideologies.
A novel of the choices women make under pressure, where to be disobedient is the only option that offers change.
Press
The Indiependent: "Both a source of fictional intrigue and an education in discovering and maintaining a specific identity in the midst of socioreligious dogmatism, Mulay insightfully navigates the limitations of freedom imposed on many women in fundamentalist and male-dominated societies and the dangers they can face in speaking out against injustice.
Through this novel, Mulay confidently refuses to shy away from exploring difficult subject matter in order to encourage her readers to question cultural and religious ideologies alongside her characters. Disobedient Women forces us to question the ways in which our lives and actions intersect with or affect those around us and ultimately encourages us to consider the importance of disobedience in an otherwise often blindly obedient society."
Jackie Law, NeverImitate: "This is a disturbing window into life in India and the damage wrought by religious intolerance and patriarchal thinking. It is hard to see how life for women will be improved while any who demand change face the opprobrium of society and law makers rather than protection from violent extremists.
A tense and fascinating debut from a strong, new voice in fiction. A recommended read."
Ninja Book Box: "I have been thinking a lot about Disobedient Women since reading it, which for me is the sign of a good book. The way that the author explores the dynamic between parents and children, especially when those parents have extreme views (to either end of the spectrum) was really interesting. Both daughters push back against their parents and against society; one rebelling against her parents' expectations and wanting the ability to express her true self, and the other going inward into a shame spiral at the shame brought on her and her family by her mother, in a society where the desire to avoid shame and to have a respected family is of utmost importance. "
Publication Date
November 2022