Three Dreams in the Key of G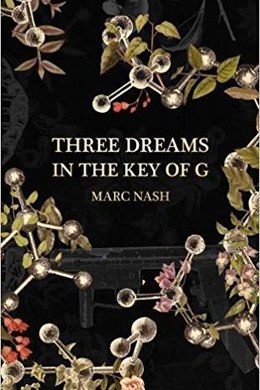 In peace-agreement Ulster a mother rears her two daughters, as her husband is decommissioned from his violent paramilitary past.
In Florida a septuagenarian runs a community refuge for women – only the authorities have surrounded it as a threat to national security.
In laboratories all over the world the human genome is being dissected and decoded.
In Three Dreams in the Key of G three female voices – Mother, Crone and Creatrix – unknowingly influence each other's fates as each battles to assert themselves and discover their voices in hostile environments.
Press
"A book that soars and leaves a frisson in its contrails. A challenging, stunning, wholly satisfying creation." - Jackie Law
"A truly unique book – a tour de force of advanced literature. Nash manages to intertwine three interesting narrators, while also expressing the emotion of science. Three Dreams is a book capable of standing out in any collection or shortlist, and will likely not be forgotten." - Hannah Bruce
"Three Dreams is a unique book, challenging and rewarding in equal measures. The style is ambitious, the novel accomplished. The form and the development of the (very different) inner voices displays the author's willingness to push the boundaries of his writing, and to explore territories that could only be so through a novel." - Yvain Poncet
Awards
Shortlisted for the Guardian's Not the Booker Prize 2018.
Publication Date
July 2018