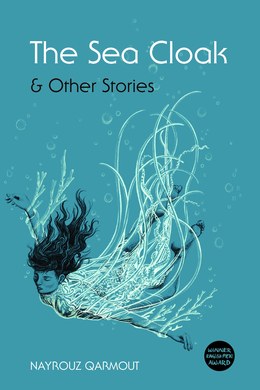 by Nayrouz Qarmout. Translated by Perween Richards
Drawing from her own experiences of growing up in a Syrian refugee camp, as well as her current life in Gaza, these 14 stories by author, journalist and women's rights campaigner Nayrouz Quarmout stitch together a patchwork of different perspectives into what it means to be a woman in Palestine today.
Whether following the daily struggles of orphaned children fighting to survive in the rubble of recent bombardments, or mapping the complex, cultural tensions between different generations of refugees in wider Gazan society, these stories offer rare insights into one of the most talked about, but least understood cities in the Middle East.
Press
The bestselling book at this year's Edinburgh International Book Festival 2019!
'All the arts are close to us because they allow us to recontextualise, to understand where we are, what we are, who we are. The Sea Cloak by Nayrouz Qarmout re-contextualises things so we really understand the world from the point of view we always knew was there.' - Ali Smith
'Explosive, resonant images are conjured in Qarmout's confident, arresting voice.' - The Guardian
'Reading [The Sea Cloak] on the train to Edinburgh, [Ali] Smith said, had induced so many small intakes of breath in her - those shocks of recognition again - that her fellow passengers must have worried about her.' - The Scotsman review Nayrouz Qarmout at Edinburgh International Book Festival with Ali Smith, Karine Polwart and Val McDermid.
'Achieves what televised images and impartial newspaper reports cannot reach.' - Morning Star
'The Sea Cloak seeks to humanise a conflict which often feels out of reach and brings home human stories which encourage re-finding an emotional connection to the land. Nayrouz's tender, moving and confrontational writing is a reminder that it's important to not just know but to feel.' - gal-dem
'Qarmout's writing is like the sea itself, each paragraph and vignette enveloping the reader like the gentle swells of the ocean, growing more powerful with each ebb and flow.' - Pop Matters
'This is an absorbing collection... barely a hundred pages yet there's a depth emanating from it that a book three times the length might not possess.' - NB Magazine
'These emotional narrations are necessary... Qarmout's writing imparts what is missing in our learning about Palestine and Palestinians: the humanity that is so easily dismissed in favour of information that does more to alienate than foster a connection. - Middle East Monitor
'These stories give a human face to the murkiness of Middle East politics and left me with a feeling of empathy and compassion for the Palestinians...' - Reshma Ruia, Words of Colour
'Qarmout's writing has a wisdom and clarity, and a richness of expression that is both exciting and compelling... The Sea Cloak is indeed a quiet revolution' - Translating Women
'These are stories of the very real daily battles for women's rights, the demands for accountability, and the search for honesty and visibility... they are stories that bring us far closer to the real lives of Palestinians than ever a news report or a collection of data could.' - Books and Bao
'Impassioned and glorious, it is a stunning addition to the rapidly growing voice of Palestinian writers.' - STORGY
Awards
Winner of a PEN Translates! Award in 2017.
Winner of The Herald's Angels Award at Edinburgh Internationl Book Festival 2018.
Nominated for Edinburgh Interational Book Festival's First Book Award 2018.
One of Translated Lit's Most Anticipated Books of August 2019.
One of World Literature Today's 75 Notable Translations of 2018.
Rights Profile
Rights Available
World, all languages
Original Language
Arabic
Translated By
Perween Richards
Samples Available
Full text available in English
Publication Date
August 2019