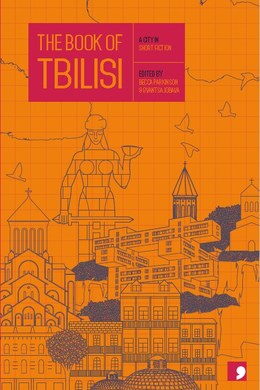 by Becca Parkinson. Edited by Becca Parkinson & Gvantsa Jobava. Featuring Ina Archuashvili, Gela Chkvanava, Erekle Deisadze, Shota Iatashvili, Dato Kardava, Lado Kilasonia, Zviad Kvaratskhelia, Bacho Kvirtia, Iva Pezuashvili & Rusudan Rukhadze.
A rookie reporter, searching for his first big story, re-opens a murder case that once saw crowds of protestors surround Tbilisi's central police station...
A piece of romantic graffiti chalked outside a new apartment block sends its residents into a social media frenzy, trying to identify the two lovers implicated by it....
A war-orphaned teenager looks after his dying sister in an abandoned railway carriage on the edge of town, hoping that someday soon the state will take care of them...
In the 26 years since Georgia declared independence from the Soviet Union, the country and its capital, Tbilisi, have endured unimaginable hardships: one coup d'état, two wars with Russia, the cancer of organised crime, and prolonged periods of brutalising, economic depression. Now, as the city begins to flourish again – drawing hordes of tourists with its eclectic architecture and famous, welcoming spirit – it's difficult to reconcile the recent past with this glamorous and exotic present. With wit, warmth, heartbreaking realism, and a distinctly Georgian sense of neighbourliness, these ten stories do just that.
'Acts as an introduction to a literature quite neglected by the Anglophone world... the language consistently has the direct, clean and unadorned quality of great fiction.' – Luke Kennard
'A soaring, searing collection – important new stories that are sure to live long in the memory.' – Eley Williams, author of Attrib
Stories translated by Philip Price, Mary Childs, Maya Kiasashvili, Nino Kiguradze, Tamar Japaridze and George Siharulidze.
Published with the support of the Georgian National Book Center and the Ministry of Culture and Monument Protection of Georgia
Press
One of World Literature Today's '75 Notable Translations of 2017'
'This is an ably edited and exciting collection from the intersection on the globe where East meets West, an area often neglected in surveys of world literature...' - Asian Review of Books
'But as with others in this excellent series, part of the pleasure is not only in the quality of the stories but precisely their variety. Indeed, some needn't be Tbilisi at all and might be set anywhere. There are enough though that give a sense of this city, however hard it might be for us outsiders to pin that down.' - Daniel Hahn, European Literature Network
'The carefully crafted stories in the book offer snapshots of life in present-day Tbilisi...' - On Art And Aesthetics
'These books are great for the vicarious traveller, and even if I'm unlikely to ever visit Georgia, at least I know a little more about the country now. Next time Tbilisi is mentioned in the news, instead of a blank space, I'll have images from these stories running through my mind, and that can only be a good thing.' - Tony's Reading List
'This is a great glimpse into a country that is just waking from its Soviet past. The one thing you found in the sense of a new world emerging...' - Winstonsdad's Blog
Rights Profile
Rights Available
World, all languages
Original Language
Georgian
Samples Available
Full text available in English
Publication Date
December 2017