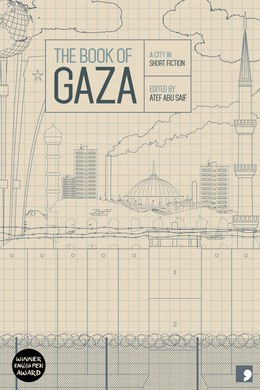 by Atef Abu Saif. Featuring stories from: Atef Abu Saif, Mona Abu Sharekh, Talal Abu Shawish, Zaki al 'Ela, Asmaa al Ghul, Yusra al Khatib, Ghareeb Asqalani, Najlaa Ataallah, Nayrouz Qarmout & Abdallah Tayeh Translated from the Arabic by Tom Aplin, Charis Bredin, Emily Danby, Alexa Firat, Alice Guthrie, Katharine Halls, Sarah Irving, Elisabeth Jaquette, John Peate, Adam Talib, and Max Weiss.
Under the Israeli occupation of the '70s and '80s, writers in Gaza had to go to considerable lengths to ever have a chance of seeing their work in print. Manuscripts were written out longhand, invariably under pseudonyms, and smuggled out of the Strip to Jerusalem, Cairo or Beirut, where they then had to be typed up. Consequently, fiction grew shorter, novels became novellas, and short stories flourished as the city's form of choice. Indeed, to Palestinians elsewhere, Gaza became known as 'the exporter of oranges and short stories'.
This anthology brings together some of the pioneers of the Gazan short story from that era, as well as younger exponents of the form, with ten stories that offer glimpses of life in the Strip that go beyond the global media headlines; stories of anxiety, oppression, and violence, but also of resilience and hope, of what it means to be a Palestinian, and how that identity is continually being reforged; stories of ordinary characters struggling to live with dignity in what many have called 'the largest prison in the world'.
Press
'This is a collection that contains within its pages a more subtle thread than what we – that is, those of us who do not know the feel of Gazan soil beneath our feet – are used to, which is something altogether less subtle and more like a bold attack on our senses from time to time.' - Lacuna Magazine.
'The voice coming through the PA system spoke of freedom. But for one of the speakers scheduled to appear at the Hay Literary Festival last month, there was no such freedom...' - BookerTalk Blog
'"Why does literature matter? Why is it important?" asks Saif before adding, "A prisoner in a refugee camp looking out to sea in Gaza gave me the answer to this eternal question – he said literature gave him hope." - The National.
'At a time when the eyes of the world are turned on the battle being raged over Gaza, it seems entirely appropriate to be reading an anthology of stories by writers from the territory.' - BookerTalk Review
'Despite Israel's relentless aerial bombardments, shelling and ground attacks for nearly two weeks, Palestinian writers in Gaza have responded to the latest onslaught by doing what they know – writing.' - Electronic Intifada
'A welcome reminder of the universality of human relations' - The Guardian
'Tales that reflect that depth and the variety and universality of the Gazan experience' - The Irish Times
'...a powerful example of Palestinian resilience.' - Jordan Times
Media:
Awards
Winner of English Pen's 'Writers in Translation' Award (Pen Promotes!)
Foyles Summer Picks, 2014
"In a recent article, the editor of this collection, Atef Abu Saif, argued that "when a human being is made into a number, his or her story disappears." With this showcase of the Palestinian short story, Abu Saif and Comma Press reveal the people and place behind the mortality statistics. It's a powerful collection with particularly strong showings from Talal Abu Shawish, Najlaa Ataallah and Ghareeb Asqalani, who achieves something truly astonishing with 'A Flower for David.' Once again, Comma have successfully brought the richness of Arabic fiction to the attention anglophone readers."
Gary Perry, Assistant Head of Fiction, Foyles.
Rights Profile
Rights Available
World, all languages
Original Language
Arabic
Samples Available
Full text available in English
Publication Date
June 2014