Resist: Stories of Uprising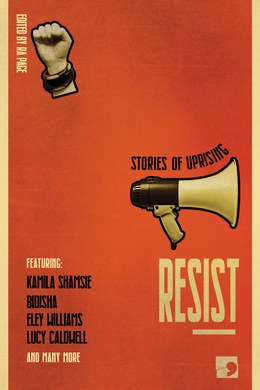 At a time that feels unprecedented in British politics – with unlawful prorogations of parliament, casual race-baiting by senior politicians, and a climate crisis that continues to be ignored – it's easy to think these are uncharted waters for us, as a democracy.
But Britain has seen political crises and far-right extremism before, just as it has witnessed regressive, heavy-handed governments. Much worse has been done, or allowed to be done, in the name of the people and eventually, those same people have called it out, stood up, resisted.
In this new collection of fictions and essays, spanning two millennia of British protest, authors, historians and activists re-imagine twenty acts of defiance: campaigns to change unjust laws, protests against unlawful acts, uprisings successful and unsuccessful – from Boudica to Blair Peach, from the Battle of Cable Street to the tragedy of Grenfell Tower. Britain might not be famous for its revolutionary spirit, but its people know when to draw the line, and say very clearly, '¡No pasarán!'
This project has been supported by the Barry Amiel and Norman Melburn Trust and the Lipman-Miliband Trust, as well as Arts Council England.
Part of Comma's 'History-into-Fiction' series.
Press
One of Waterstones' 'Best of 2019'
One of The Guardian Bookshop's 'Ones to Watch' September 2019
One of '30 books for autumn 2019' at iNews.
One of the '11 best fiction and feminist reads for November' at Stylist Magazine.
As featured in Prospect, The Times Literary Supplement, Minor Literatures and The State of the Arts.
'It's historic and new, it reflects while questioning the current day, it offers a fictional exploration and a grounded real world context.' - The Skinny
'What a clever idea for a book... It works admirably.' - The Irish Times
'There's never a bad time to be reminded that, when things got bad enough, ordinary Britons would fight back' - The Herald
'It's a powerful collection and well worth the read so please don't be daunted by the subject matter if you're feeling overwhelmed by the world.' - Emma Yates-Badley, Northern Soul
'Resist is a deftly curated anthology... This is a book for complex political times that celebrates protest as a progressive force in society.' - NB Magazine
Publication Date
October 2019