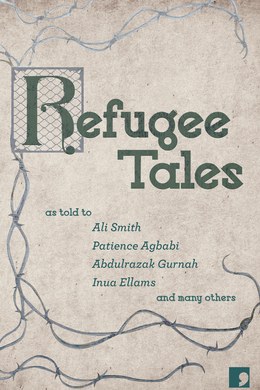 by David Herd. Edited by David Herd & Anna Pincus, Featuring Patience Agbabi, Jade Amoli-Jackson, Chris Cleave, Stephen Collis, Inua Ellams, Abdulrazak Gurnah, David Herd, Marina Lewycka, Avaes Mohammad, Hubert Moore, Ali Smith, Dragan Todorovic, Carol Watts & Michael Zand
Offered as a modern day reworking of the Canterbury Tales, this book brings together the stories of real-life refugees whose voyage to the UK has not been a journey of spiritual salvation, rather one of sheer, physical survival.
True stories of asylum seekers who have suffered at the hands of Britain's policy of 'indefinite detention', told by leading novelists and poets (including Ali Smith, Jackie Kay, Marina Lewycka, Patience Agbabi, and Marina Warner). These tales have been developed in collaboration with refugees, former and current detainees, and those who work with them.
All profits go to the Gatwick Detainee Welfare Group and Kent Help for Refugees.
Press
'Refugee Tales is a wonderful way of re-humanising some of the most vulnerable and demonised people on the planet. This collection is both challenging and poignant. Readers will surely be moved to move their leaders to action.' – Shami Chakrabarti
'We hear so many of the wrong words about refugees - ugly, limiting, unimaginative words - that it feels like a gift to find here so many of the right words which allow us to better understand the lives around us, and our own lives too.' - Kamila Shamsie
'In a terrible political year, I found Refugee Tales salutary, invigorating, and enlivening. A courageous book, it offers the reader great solace. It gives faces to the faceless, and voices to the voiceless, humanizing the people that our society demonizes.' - Jackie Kay's Pick's of the Year (2016) in The Scottish Review of Books
'Every tale is different, yet each speaks of vulnerable people in inhumane situations. Refugee Tales is a much-needed collection, providing vital insight into the lives of people who are, by their circumstances, dehumanised and left unable to communicate their experiences." - Thresholds
'The Refugee Tales project is helping to reshape the discussion around the treatment of those who have travelled long distances, often in unimaginably difficult circumstances, in order to find safety. In so doing, it has also served to highlight the broader injustices of the British immigration system, as well as of how it forms part of a vast network of exclusionary and violent border policies that stretches across and, increasingly, beyond Europe'- The Glasgow Review of Books
'A good book can forge powerful empathies' - The National
Rights Profile
Rights Available
World, all languages
Original Language
English
Samples Available
Full text available in English
Publication Date
June 2016