Refugee Tales: Volume III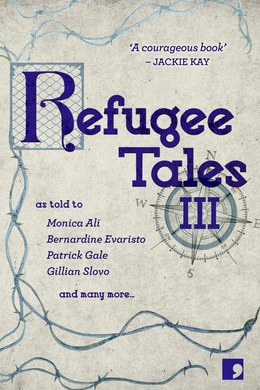 With nationalism and the far right on the rise across Europe and North America, there has never been a more important moment to face up to what we, in Britain, are doing to those who seek sanctuary. Still the UK detains people indefinitely under immigration rules. Bail hearings go unrecorded, people are picked up without notice, individuals feel abandoned in detention centres with no way of knowing when they will be released.
In Refugee Tales III we read the stories of people who have been through this process, many of whom have yet to see their cases resolved and who live in fear that at any moment they might be detained again. Poets, novelists and writers have once again collaborated with people who have experienced detention, their tales appearing alongside first-hand accounts by people who themselves have been detained. What we hear in these stories are the realities of the hostile environment, the human costs of a system that disregards rights, that denies freedoms and suspends lives.
Featuring: Monica Ali, Lisa Appignanesi, David Constantine, Bernardine Evaristo, Patrick Gale, Abdulrazak Gurnah, David Herd, Emma Parsons, Ian Sansom, Jonathan Skinner, Gillian Slovo, Lytton Smith, Roma Tearne & Jonathan Wittenberg
All profits go to the Gatwick Detainee Welfare Group and Kent Help for Refugees.
Press
As featured in The Times Literary Supplement, The TLS Podcast, BBC Radio 4's A Point of View, The Economist and The Guardian's Long Read.
'We hear so many of the wrong words about refugees – ugly, limiting, unimaginative words – that it feels like a gift to find here so many of the right words which allow us to better understand the lives around us, and our own lives too.' – Kamila Shamsie
'In sparse language we hear with a heart-wrenching immediacy and intimacy of brutalities and injustices of refugee life in Britain, but also of hope and optimism in the hardest circumstances.' - Kerry Hudson, The Big Issue
'The tales told in this book have the power to humanise better than any news reports or cold numbers... If anything is require reading in 2019, it's this book.' - Books and Bao
'These powerful, beautifully written stories trade the dominant vocabulary of administrative indifference for a language of apples and orchards, threads and fabrics, English classes and dancing moves. This it the language we need in order to overcome the Europe of hard borders, disbelief and indefinite detention, and to build a future where human stories, empathy and sanctuary no longer constitute a revolutionary act.' - Routed Magazine
'Refugee Tales: Volume III is a really laudable and invaluable book that has the power to make people aware of situations and circumstances they may not have been familiar with and to encourage them to rethink, question and transform their attitudes and understanding.' - Nudge Book Magazine
'Each one of us should feel an obligation to read this book.' - Northern Soul
'It's not an easy read by any means, but Refugee Tales III is a powerful collection that should be read by anyone looking to learn more about the reality of life as a refugee...' Sabotage Reviews
Publication Date
July 2019