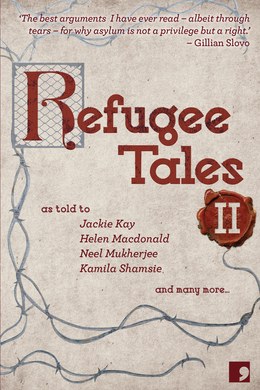 by David Herd. Edited by David Herd and Anna Pincus Featuring Caroline Bergvall, Josh Cohen, Ian Duhig, Rachel Holmes, Jackie Kay, Olivia Laing, Helen Macdonald, Neel Mukherjee, Alex Preston, Kamila Shamsie & Marina Warner
Upon changing his religion, a young man is denounced as an apostate and flees his country hiding in the back of a freezer lorry… After years of travelling and losing almost everything – his country, his children, his wife, his farm – an Afghan man finds unexpected warmth and comfort in a stranger's home...
A student protester is forced to leave his homeland after a government crackdown, and spends the next 25 years in limbo, trapped in the UK asylum system...
Modelled on Chaucer's Canterbury Tales, the second volume of Refugee Tales sets out to communicate the experiences of those who, having sought asylum in the UK, find themselves indefinitely detained. Here, poets and novelists create a space in which the stories of those who have been detained can be safely heard, a space in which hospitality is the prevailing discourse and listening becomes an act of welcome.
All profits go to the Gatwick Detainee Welfare Group and Kent Help for Refugees.
The launch of this second collection of brand new stories will be combined with a walk from Runnymede to Westminster calling for a change in the British law, to acknowledge the rights of people without citizenship, more info at refugeetales.org.
Press
'A wonderful way of re-humanising some of the most vulnerable and demonised people on the planet.' - Shami Chakrabarti
'This stark short story collection will shake you to the core' - Reader's Digest
'The sensitive and extremely poignant way the accounts are communicated does them the justice they deserve' - Bethany Rielly, The Morning Star
'What a fantastic project that so successfully marries all those involved with the Gatwick Detainees Welfare Group with the writers and those who shared their tales.' - Karen Argent, The Letterpress Project
'This is what literature and these stories are able to present; the breadth of these people's lives. Something an image based media cannot hope to accomplish. But what makes Refugee Tales unique, and which also spares it from accusations of choir pandering, is the feeling of ineptitude inherent in these writers trying to express the stories of refugees.' - Mark Daniel Taylor, Disclaimer
'All the tales in the two volumes are at once deeply personal and "world-sized", and the question of how best to convey both their specificity and their representativeness is clearly a significant one for the writers involved.' - Tom White, The Glasgow Review of Books
'A book which I hope will change the world- or at least begin to.' - Yvette Huddleston, The Yorkshire Post
Rights Profile
Rights Available
World, all languages
Original Language
English
Samples Available
Full text available in English
Publication Date
December 2017