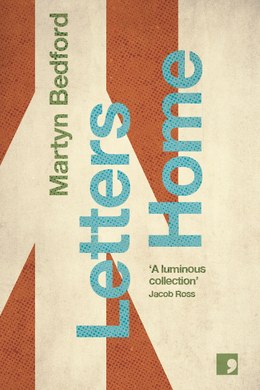 An asylum seeker waiting for a decision on his case, writes letters back to his family, reassuring them that he is welcomed and wanted in this new home, when patently he is not…
A young woman falls into a seemingly endless sleep, and what begins as a form of depression, transforms into a social-media sensation, with acolytes camping outside her hospital, sleeping in vigil...
A young boy whose mother has disappeared is given a detective kit by his grandparents, in an attempt to distract; instead he uses it try and solve the mystery himself....
Martyn Bedford's short stories ask difficult questions: how do we re-define ourselves in the age of identity politics and social media echo-chambers. What constitutes personal identity, and what can we call 'home', when the places we come from are either no-longer accessible, or not what they claim to be.
Covering everything from the family feuds over long-passed industrial disputes, through to futuristic visions of police detection, Bedford's stories also offer a fascinating portrait of the changing face of modern, Northern England.
Press
'What I found most poignant when reading this collection were the things that were not spoken between characters; the words that fall between the cracks... it's both powerful and emotive.' - Thresholds
'[Letters Home] is a display of creative virtuosity, with Bedford presenting a huge range of diverse voices and scenarios; each story is so different – in subject matter, style, characterisation – from the next. His obvious joy in experimenting with form also comes across. The risks are worth taking: he succeeds every time.' - Yorkshire Post
'The only downside - as I often find with short stories - is that you become so engrossed you don't want them to end so soon.' - Bradford Telegraph & Argus
'Letters Home is a vivid collection of heartfelt stories, told with vigour and obvious empathy.' - Disclaimer Magazine
'The stories are both short postcards from the edge of everyday existence, and also Martyn Bedford's bitter-sweet love notes to life in Yorkshire, and Letters Home is a first class read.' - Ilkley Gazette
Read Big Issue North's Q&A with Martyn in full here.
Rights Profile
Rights Available
World, all languages
Original Language
English
Samples Available
Full text available in English
Publication Date
November 2017