Drone Eats With Me: stories from a city under fire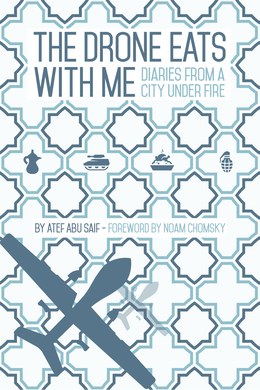 On 7 July 2014, in an apparent response to the murder of three teenagers, Israel launched a major offensive against the Gaza Strip, lasting 51 days, killing 2145 Palestinians (578 of them children), injuring over 11,000, and demolishing 17,200 homes.
The global outcry at this collective punishment of an already persecuted people was followed by widespread astonishment at the pro-Israeli bias of Western media coverage. The usual news machine rolled up, and the same distressing images and entrenched political rhetoric were broadcast, yet almost nothing was reported of the on-going lives of ordinary Gazans – the real victims of the war.
One of the few voices to make it out was that of Atef Abu Saif, a writer and teacher from Jabalia Refugee Camp, whose eye-witness accounts (published in The Guardian, The New York Times, and elsewhere) offered a rare window into the conflict for Western readers. Here, Atef's complete diaries of the war allow us to witness the full extent of last summer's atrocities from the most humble of perspectives: that of a young father, fearing for his family's safety, trying to stay sane in an insanely one-sided war.
Press
SHORTLISTED FOR THE MEMO PALESTINE BOOK AWARDS 2015
'Witnessed, lived, and recorded page by page. A searing account of living through the 2014 bombardment of Gaza. We who report it can never capture the true scale of individual and collective suffering. As a Gaza resident, Atef Abu Saif's diary provides an insight no outsider could ever have achieved.' – Jon Snow, Channel 4 News
'In this luminous account of Israel's 2014 invasion of Gaza, Atef Abu Saif creates a literary equivalent to Goya's Disasters of War. The Drone Eats with Me deserves to become a modern classic of war literature. But for all the surrealist absurdity of the horrors Abu Saif chronicles, the book pulses throughout with the sublime, mundane and ferocious love for life.' – Molly Crabapple, author of Drawing Blood
'The Drone Eats with Me is a devastating contemporary war journal. This is what war is like in the 21st century – the voice of a civilian in the onslaught of drone warfare, a voice we have never heard before.' – Michael Ondaatje, author of The English Patient and Divisadero.
'a personal intimacy with the violent contusions of daily life endured in Gaza' - Race & Class Journal (subscription required)
'The small details and personal stories he conveys serve to rehumanise Gazans.' - The Jordan Times
'Abu Saif offers a remedy—if only temporary in its relief—for the bloodless language of provocation and response that afflicts those of us who are not Gaza's afflicted when we speak about Gaza.' - The Rumpus
'Intelligently, passionately, fluently, and sometimes poetically, written, it's the story of a family in Ramadan, of the agony and joy of fatherhood under fire and of a community which somehow survives through rolling blackouts and sudden flashes of light.' - The National
' Eloquently tells the human story behind the awful statistics... chilling' - The Independent
'His cool, spare prose only highlights the extreme stress and horror of living under constant bombardment.' - The New Statesman
'Why bombs cannot strip Gaza of intellectual life.' - Times Higher Education
'Parts of this book are so beautifully written that you have to stop and reread the sentences. He creates beauty out of an ugly situation.' - Bookmunch
'Abu Saif's diary is a reminder to all readers that the suffering and humanity of Gaza may be out of the headlines, but still cry for attention from a fickle world.' - Electronic Intifada
'...an evocative and searing account of the daily realities of war, told in simple and at times brutally honest prose.' - Middle East Monitor
'This was a beautifully crafted book, and one that I found to be highly-recommendable.' - Library Thing
'His entries are thoughtful vignettes and mini-essays, simple, clear and straightforward' - Shelf Awareness
US Press (North American Edition published by Beacon Press in May 2016)
'...an eloquent, intimate and searing account of family life during war time.' - In These Times
'The Drone Eats with Me is a devastating contemporary war journal. This is what war is like in the twenty-first century—the voice of a civilian in the onslaught of drone warfare, a voice we have never heard before.' - Michael Ondaatje, author of Divisadero
'The Drone Eats with Me deserves to become a modern classic of war literature.' - Molly Crabapple, author of Drawing Blood
'Written with the unapologetic immediacy of a journalist and father, The Drone Eats With Me is an essential guide to life in modern Gaza. Atef Abu Saif's chronicle of living in the age of drone warfare will stir the reader's heart. ' - Left Bank Books (St. Louis, MO)
'I hope this book is read with an open heart and mind by Americans of all religions and from all regions, and across the world, too. It's not an easy read, but I feel better and more informed having read it. . . . Saif's memoir about a family attempting normalcy during modern-day wartime takes you into a world we read plenty of headlines about but may not understand when it comes to day-to-day life.' - Chapter2Books (Hudson, WI)
'It's difficult to read, the way many war memoirs are, but it feels important to witness what this man experienced. Thoughtful and beautifully written, this book will leave you with a lot to think about.' - Boulder Book Store (Boulder, CO)
'(...) a very effective war memoir.' - Book Chase
Awards
Shortlisted for the Memo Palestine Book Awards 2015
Rights Profile
Rights Available
World, all languages except North America (Beacon Books) and German (UnionsVerlag)
Original Language
English
Samples Available
Full text available in English
Publication Date
July 2015