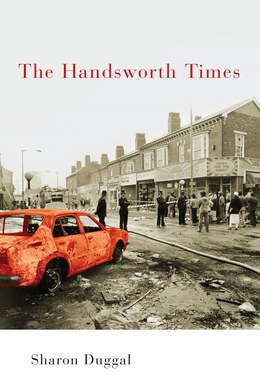 Mukesh Agarwal sits alone in the Black Eagle pub, unaware that a riot is brewing or that Billy, his youngest son, is still out on his bike...
A mile away, at home in Church Street, Anila, one of the three Agarwal girls, is reading Smash Hits and listening to Radio One as she sprawls across the bottom bunk; oblivious to the monumental tragedy that is about to hit her family.
It is 1981 and Handsworth is teetering on the brink of collapse. Factories are closing, unemployment is high, the National Front are marching and the neglected inner cities are ablaze as riots breakout across Thatcher's fractured Britain. The Agarwals are facing their own nightmares but family, pop music, protest, unexpected friendships, and a community that refuses to disappear all contribute to easing their personal pain and that of Handsworth itself.
The Handsworth Times is a story of loss, transition, and pulling together because ultimately, there is such a thing as society.
Press
'... quite simply the most accomplished, complete and startlingly authentic novel I have read this year.' - Morning Star.
Awards
Morning Star book of the year
Chosen for City Reads 2017
Rights Profile
Rights Available
World, all languages.
Original Language
English
Samples Available
Full text available in English
Publication Date
September 2016