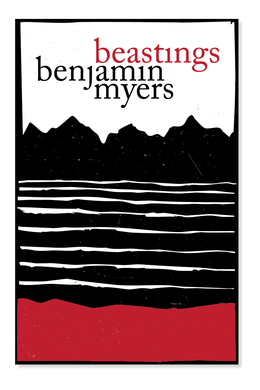 A girl and a baby. A priest and a poacher. A savage pursuit through the landscape of a changing rural England. When a teenage girl leaves the workhouse and abducts a child placed in her care, the local priest is called upon to retrieve them. Chased through the Cumbrian mountains of a distant past, the girl fights starvation, and the elements, encountering the hermits, farmers, and hunters who occupy the remote hillside communities. Like an American Southern Gothic tale set against the violent beauty of Northern England, Beastings is a sparse and poetic novel about morality, motherhood, and corruption.
Press
'The evocation of landscape is intimate and elemental - Myers has the potential to become a true tragedian of the fells.' – The Guardian.
'Benjamin Myers is quite simply an excellent and already accomplished writer. His prose is taut, confident, professionally polished but at the same time maintaining a sense of rustic and unrefined authenticity, that which is truly hewn.' – Man Booker judge, Sarah Hall.
'This bitter, alarming, occasionally visionary novel of the British wilderness is likely to linger in the mind for some time.' - Tim Martin, New Statesman
'Beastings is a brilliant, brutal novel, told sparsley but with huge strength. It put me in mind of Ron Rash and Cormac McCarthy in the attention to landscape, and its muscular tone.' - Robert Macfarlane.
Awards
Winner of the £10,000 Portico Literature Prize 2015 and the Northern Writers Award
Short listed for The Jerwood Prize for Fiction 2015
Rights Profile
Rights Available
World, all languages
Original Language
English
Samples Available
Full text available in English
Publication Date
July 2014