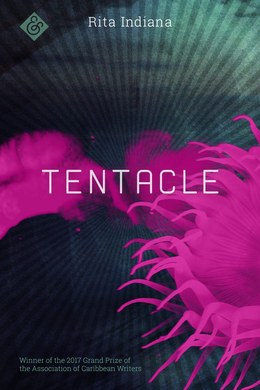 by Rita Indiana. Translated by Achy Obejas.
Plucked from her life on the streets of post-apocalyptic Santo Domingo, young maid Acilde Figueroa finds herself at the heart of a Santería prophecy: only she can travel back in time and save the ocean – and humanity – from disaster. But first she must become the man she always was – with the help of a sacred anemone. Tentacle is an electric novel with a big appetite and a brave vision, plunging headfirst into questions of climate change, technology, Yoruba ritual, queer politics, poverty, sex, colonialism and contemporary art. Bursting with punk energy and lyricism, it's a restless, addictive trip: The Tempest meets the telenovela.
Press
'Tentacle shapeshifts dizzyingly around three time spans and a loosely connected group of characters, and takes on huge themes, including race and gender, the impact of tourism, apocalyptic events and ecological disaster. [...] Whether we would really want to change the past, given the opportunity, is one question posed in this blast of a novel; what it is to act beyond self-interest is another. Tentacle reads like Kathy Acker with a tighter narrative grip.' - The Guardian
'Tentacle reaches back and forward through the ages, harnessing the fluidity of time, gender, and the natural world to reflect on colonial history and imagine a deeply disturbing future. [...] Obejas's English version certainly captures some of that vernacular feel, mobilising US slang as well as Spanish syntax and vocabulary, reminding readers that while this is a story with a global vision, it has a Caribbean setting.' - Los Angeles Review of Books
Awards
Winner of the 2017 Grand Prize of the Association of Caribbean Writers.
Publication Date
November 2018
Link
Tentacle on the And Other Stories website