I Don't Expect Anyone to Believe Me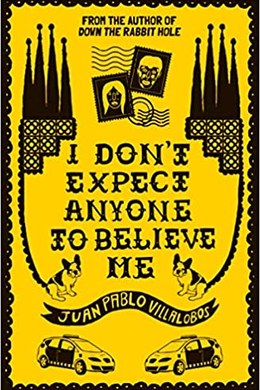 'I don't expect anyone to believe me,' warns the narrator of this novel, a Mexican student called Juan Pablo Villalobos. He is about to fly to Barcelona on a scholarship when he's kidnapped in a bookshop and whisked away by thugs to a basement. The gangsters are threatening his cousin—a wannabe entrepreneur known to some as 'Projects' and to others as 'dickhead' – who is gagged and tied to a chair. The thugs say Juan Pablo must work for them. His mission? To make Laia, the daughter of a corrupt politician, fall in love with him. He accepts . . . though not before the crime boss has forced him at gunpoint into a discussion on the limits of humour in literature.
Part campus novel, part gangster thriller, I Don't Expect Anyone to Believe Me is Villalobos at his best. Exuberantly foul-mouthed and intellectually agile, this hugely entertaining novel finds the light side of difficult subjects – immigration, corruption, family loyalty and love – in a world where the difference between comedy and tragedy depends entirely on who's telling the joke.
Press
'A funny, moving account of status, power and immigration, which also dips into comic literary theory and author hang-ups. Highly entertaining, with a magnificent sucker-punch finish.' - Paul Ewen
'We laugh (a lot!), although perhaps we shouldn't, as each laugh carries the implicit admission that some of what we are laughing at is actually true.' - Nadal Suau, El Cultural, El Mundo
Awards
Winner of the 2016 Herralde Prize.
Villalobos' first novel Down the Rabbit Hole was shortlisted for the 2011 Guardian First Book Award and the 2012 Oxford-Weidenfeld Translation Prize.
Rights Profile
World English
Publication Date
April 2020