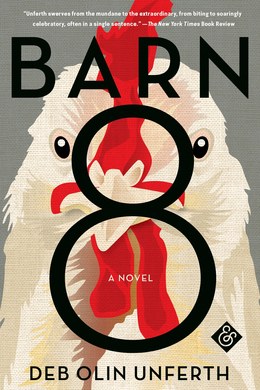 One disaffected administrator, one disenchanted teenager, four hundred and twenty-one vegan extremists, sixty trucks, and nine hundred thousand grumpy layer hens awaiting liberation. In barns. Six barns. No, wait, seven. No, wait …
Two auditors for the US egg industry conceive a plot to liberate an entire egg farm's worth of animals, with catastrophic results. This wildly inventive but utterly plausible novel about a heist of a very unusual kind swirls with a rich array of voices: a farmer's daughter, hundreds of activists, a forest ranger who stumbles upon forty thousand hens, and a security guard abandoned for years on a farm. We glimpse the evolution of chickens twenty thousand years from now. We hear what hens think happens when they die.
And at the heart of this more-than-plucky novel lies the question: what constitutes meaningful action in a world so in need of change? With towering ingenuity, eviscerating wit, and unflappable passion, Barn 8 is a true rare breed, a comic-political drama, and a tour de force for our time.
Press
'Deb Olin Unferth's hilarious genius is on dazzling display in this novel. Come for the brilliant insights about our faltering civilization. Stay for the revolutionaries and the chickens. You are really really going to love these chickens . . .' - Jenny Offill
'Barn 8 is a novel like no other: An urgent moral fantasia, a post-human parable, a tender portrait of animal dignity and genius.' - Dana Spiotta
Rights Profile
UK & C (excl Canada) and non-exclusive Europe.
Publication Date
April 2020
Link
Barn 8 on the And Other Stories website