Green Book Fair
The Green Book Fair: A Global Publisher Exchange Dates: September 27th - 29th, 2023 Location: Online, Zoom
The Northern Fiction Alliance is thrilled to present The Green Book Fair, an innovative online book fair designed for the environmentally-conscious global publishing community. All international independent publishers are invited to attend.
🌟 Global Publisher Networks: Connect with independent publishers and other intellectual property buyers from all over the world. Engage in virtual one-to-one meetings, ensuring efficiency and maximizing collaboration potential.
📚 Literary Innovation: Celebrate and promote bold and independent literary publishing through curated sessions, panel discussions, and interactive showcases per territory.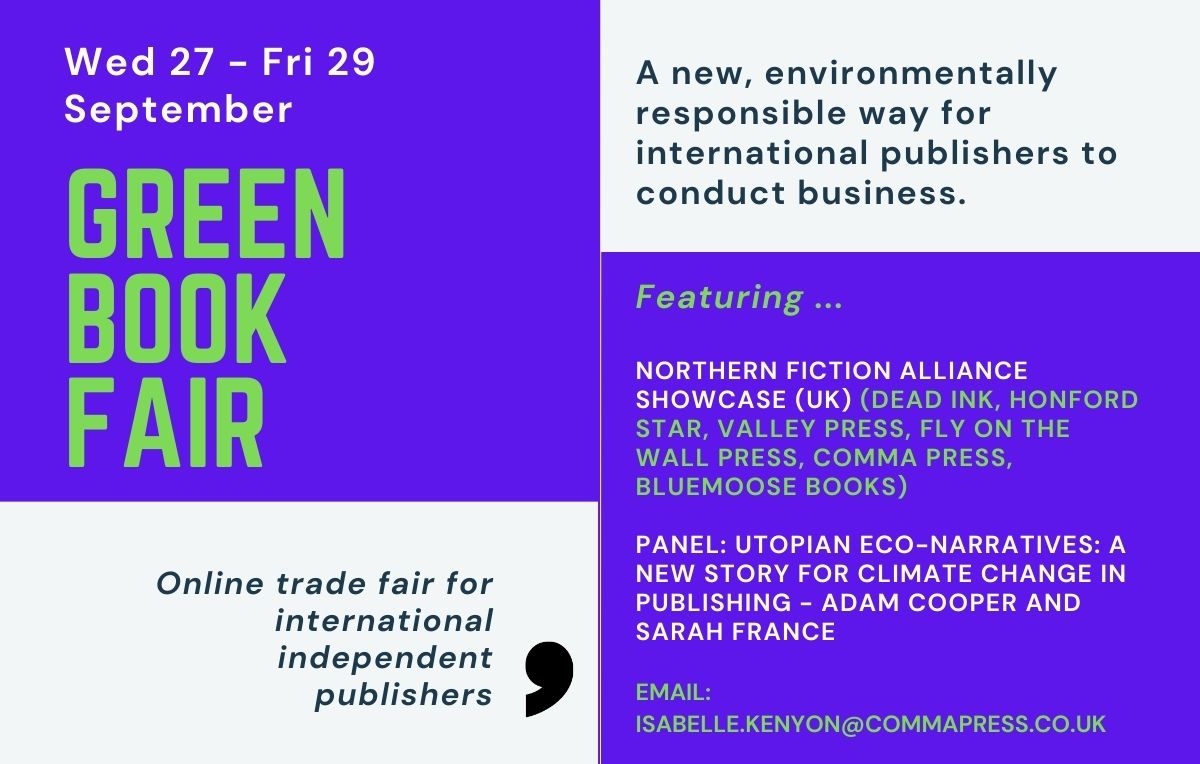 Wednesday 27th September 2023
Pre-arranged 1-2-1s
Plus open panel: 10.00am - 11 am BST Utopian Eco-narratives: a new story for climate change in publishing - Adam Cooper and Sarah France
Thursday 28th September 2023
Networking and showcases
(After each showcase, there will be break-out rooms for networking and rights-based enquiries.)
Australian and New Zealand showcase: 9am - 9.50am UK Time
• 9 AM Nick Tapper, Associate Publisher and Alexandra Christie, Rights Director, present titles and rights available from Giramondo Publishing (AU)
• 9.10 AM 5ever (NZ) presents titles and rights available
• 9.20 AM Dead Bird (NZ) presents titles and rights available
• 9.30 AM Dr David Reiter, CEO / Publisher, IP (Interactive Publications Pty Ltd) presents titles and rights available
Northern Fiction Alliance Showcase: 10.00am- 12.00pm UK Time
• 10 AM Dead Ink Books, Liverpool UK presents titles and rights available
• 10.10 AM Honford Star, Stockport UK
• 10.20 AM Fly on the Wall Press, Manchester UK
• 10.30 AM Comma Press, Manchester UK
• 10.40 AM Valley Press, Scarborough UK
• 10.50 AM Bluemoose Books, Hebden Bridge UK
• 11 AM Saraband, Salford UK
Spanish Showcase: 1.15-1.50pm
Rebeca González Izquierdo from Blackie Books presents their titles and rights available
Jacana Media/Johannesburg Showcase: 2pm - 2.30pm
Shay Heydenrych presents titles from Jacana Media.
French Showcase: 3-4pm
3pm Édi8 James Elliott (Rights Director – Non-Fiction and Illustrated books) Presenting their Green Lifestyle and Self-Help titles
3.15pm Denoel Margherita Giubelli Bortolami (Rights Manager)
Friday 29th September 2023
1-2-1s arranged from Thursday
Want to join or host a territory showcase? Send a publisher blurb and catalogue to isabelle.kenyon@commapress.co.uk and we will see if we can accomodate.
Want to take part in one on one rights selling and buying meetings? Sign up to fair updates and upload your current rights catalogue to this form. We will then share fair attendees with you and circulate your catalogue to facilitate meetings.
Don't miss out on this game-changing event that will shape the future of the publishing industry. To get involved or learn more, please contact Isabelle Kenyon at isabelle.kenyon@commapress.co.uk.